Are you providing the best flea and tick preventative for your pets?
It is important to provide your pets with monthly flea and tick prevention. They are not only a nuisance, but can spread disease and parasites.
If your dog or cat has a flea allergy, even one flea can cause allergic dermatitis. Excessive scratching and licking, hair loss, and hot spots are all possible signs of this allergy. In order to relieve the itching caused by fleas, your pet will likely chew on themselves and ingest the fleas. Ingestion of fleas can cause tapeworms; if you notice small white segments in your pets stool, it is likely they have fleas and have developed tapeworms.
Ticks can carry many diseases that can be spread to dogs, cats, and humans. Once attached, ticks can spread disease to the animal in as little as 2 hours. Depending on the disease, symptoms typically begin to show 2 to 10 days after the bite occurs.
The most common canine tick-borne diseases in Arkansas are Erlichiosis, Rocky Mountain Spotted Fever, and Anaplasmosis. If your dog is showing signs of fever/chills, aches and pains, or rash after being bitten by a tick, it is important to seek veterinary care.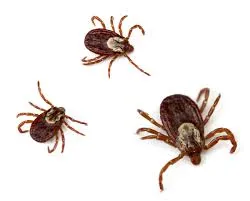 Ticks can spread Cytaux, also know as Bobcat fever, to cats. This disease affects the blood cells in cats and can be fatal. The current survival rate for this disease is about 60%.
We provide multiple options for flea and tick preventative at Baxter County Animal Clinic. Please feel free to discuss with our staff the best option for your pet.
For dogs, we currently carry: For cats, we currently carry:
Nexgard* Revolution Plus*
Bravecto* Bravecto Plus* Frontline Shield Frontline Gold
Seresto Collars Seresto Collars

*by prescription only